FANZINOTECA ROCK'N'CAVE APRESENTA...

CONCURSO DE FANZINES ' 23
Open Call até 30 de junho 2023
Os fanzines, de baixo custo e fácil produção, são uma forma democrática de edição, em que o seu autor é inteiramente responsável pelo conteúdo.
Este concurso de fanzines pretende divulgar o trabalho de quem continua a fazer este tipo de edições e promover a Fanzinoteca da Associação Cultural Rock'n'Cave, um acervo de fanzines de todo o mundo, com mais de 20 anos e em crescimento.
Todos os zines enviados farão parte da Fanzinoteca Rock'n'Cave, figurando no nosso website e em futuras exposições, incluindo a
exposição de 18 de julho a 31 de agosto na Elevadora
(Paredes de Coura).
Para participar basta enviares o teu fanzine por correio para o endereço abaixo e preencheres o formulário de candidatura disponível nesta página.
Os fanzines concorrem a
três prémios no valor de 250€ cada, que visam apoiar a produção de novas edições dos mesmos, ou de novos fanzines, por parte dos autores vencedores.
Lê o
regulamento
do concurso com atenção e
candidata o teu fanzine
!
FANZINE CONTEST '23
Open Call until 30 June 2023

Fanzines, of low cost and easy production, are a democratic form of edition, in which its author is entirely responsible for the content.

This zine contest intends to disseminate the work of who continues to make this type of edition and to promote the Fanzinoteca of the Cultural Association Rock'n'Cave, a collection of fanzines of the whole world, with more than 20 years and still growing.

All the sent zines will be part of the Rock'n'Cave Fanzinoteca, appearing in our website and in future exhibitions, including the exhibition from July 18th to August 31st in Elevadora (Paredes de
Coura).

To participate you just need to send your fanzine by mail to the adress bellow and fill in the application form available on this page.
The fanzines will compete for three prizes of 250€ each, which aim to support the production of new editions of the same zines, or new, by the winning authors.
Read the contest rules carefully and submit your fanzine!
ENDEREÇO PARA ENVIO DE FANZINES
/ ADDRESS TO SEND YOUR ZINE
Associação Cultural Rock'n'Cave
Elevadora
Largo Dona Maria Luiza Abreu Antas
4940-522 Paredes de Coura
Portugal
O JÚRI
/ THE JURY
Laura Palma
Laura Palma é uma ilustradora portuguesa, nascida em 1996. Com uma formação inicial em Pintura, apaixonou-se pelo espírito brincalhão da Ilustração que se reflete no seu trabalho com uma panóplia de referência esotéricas e cósmicas que interagem em composições fluidas e claro, sempre acompanhadas de combinações de cores inesperadas. É a curadora, em parceria com alguns membros da Rock'n'Cave, da
exposição Zines da Cave
, onde os fanzines concorrentes vão estar expostos.
Laura Palma is a portuguese illustrator, born in 1996. With a background in painting, but she fell in love with the playfullness of illustration where her work has a panoply of esoteric and cosmic references playing around in fanciful landscapes with fluid compositions and of course, a funky color palette that is never missing. She is the curator, together with some members of Rock'n'Cave, of the exhibition Zines da Cave, where the competing fanzines will be exhibited.
Mosca aka Nuno Pinheiro
Desde muito novo um apaixonado por música, Mosca aka Nuno Pinheiro, aos 10 anos compra o seu primeiro disco "Seven and the Raged Tiger" dos Duran Duran! A partir daí parte em busca das mais variadas experiências sonoras desde o rock, pop, indie, electrónica, punk, post-punk, new wave, garage, passando até pelo metal, tanto de projectos emergentes como de bandas old school! Colaborador permanente dos Festivais Vodafone Paredes de Coura, Primavera Sound, entre outros, partilha igualmente todo o seu interesse e conhecimento, através duma mesa de mistura, em sessões regulares em bares e festivais, bem como num podcast que criou, de edição de autor, que apelidou de Moscas Volantes!
From a very young age a music lover, Mosca aka Nuno Pinheiro bought his first record "Seven and the Raged Tiger" by Duran Duran at the age of 10! From then on he goes in search of the most varied sound experiences from rock, pop, indie, electronic, punk, post-punk, new wave, garage and even metal, both from emerging projects and old school bands! Permanent collaborator of the festivals Vodafone Paredes de Coura, Primavera Sound, among others, he also shares all his interest and knowledge, through a mixing desk, in regular sessions in bars and festivals, as well as in a podcast he created, authored by him, called Moscas Volantes (Floating Flies)!

Hayli Chwang
Designer, produtora e tecnóloga criativa com paixão pelo pensamento sistémico e pela inovação social. É também a fundadora da startup
Dodo Laboratory
, que começou como uma publicação inspirada num zine. Atualmente, a Dodo cria experiências lúdicas transformadoras que permitem que crianças e adultos usem a sua imaginação para enfrentar desafios globais complexos, mas nunca esquecendo o seu primeiro amor: o poder criativo da impressão.
A designer, producer & creative technologist with passion for systems thinking & social innovation. She's also the founder of the purpose-led startup Dodo Laboratory, which began life as a zine-inspired publication. Dodo now designs transformative play experiences that empower kids & adults to use their imaginations to tackle complex global challenges, but never forgetting their first love in the creative power of print.
Catarina Machado
Membro fundador da Rock'nCave, faz parte da atual direção. Fez formação em Programação na Rádio Universidade de Coimbra e exerceu funções nesta rádio, entre 1995 e 2001, como locutora e realizadora de programas. Desde 2001 e até este ano colaborou com a Rádio Estação Diária. É autora e realizadora do programa
O Grito e o Cochicho
, de divulgação de projetos culturais e artísticos. Participou em diversos festivais como o Rádio Faneca, NANT, TEXTemunhos, Zigurfest ou Vira Fest. Co-fundadora do projeto Rádio Rossio, em 2015, tem aí realizado vários programas. Tem desenvolvido trabalho com a comunidade em oficinas e workshops de rádio, em escolas ou projetos com a Escola do Rock de Paredes de Coura ou o Que Jazz é Este?. Desde 2000 é professora de Química e Física.
Founding member of Rock'nCave, is part of the current direction. She studied Programming at Rádio Universidade de Coimbra and worked in this radio between 1995 and 2001, as a speaker and director of programs. Since 2001 and until this year she collaborated with Radio Estação Diária. She is the author and director of the programme O Grito e o Cochicho, which promotes cultural and artistic projects. She has participated in several festivals such as Rádio Faneca, NANT, TEXTemunhos, Zigurfest and Vira Fest. Co-founder of the project Rádio Rossio, in 2015, where she has made several programmes. She has developed work with the community in radio workshops, in schools or projects like Escola do Rock de Paredes de Coura or Que Jazz é Este?. Since 2000 she is a Chemistry and Physics teacher.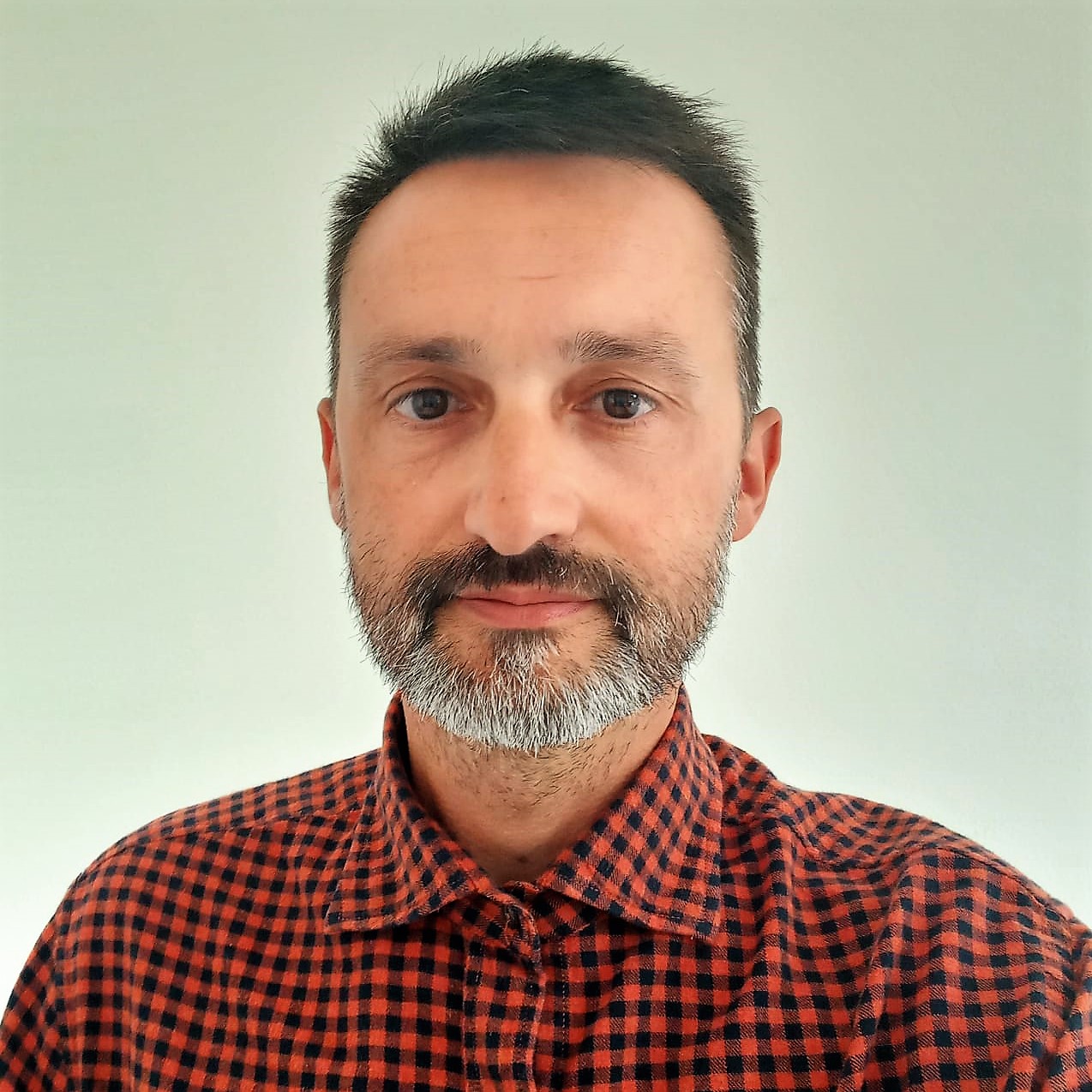 André Viana
Desde sempre apaixonado por cultura, desporto e educação, André Viana é atualmente técnico da Câmara Municipal de Paredes de Coura. Já passou pela produção de vários projetos ligados à juventude e ao empreendedorismo, destacando-se o seu envolvimento na Escola do Rock, Espaço Jovem, Trainers4Creativity, Empreende Makers, entre outros. De momento exerce funções de coordenação da Elevadora - Centro Empresarial de Paredes de Coura (espaço que vai acolher a exposição
Zines da Cave
), onde supervisiona a gestão de espaços, dinamização de atividades para diversos setores da população e coordenação de projetos nacionais e internacionais.
André Viana has always had a passion for culture, sport and education and is currently a technician at Paredes de Coura Municipal Council. He has been involved in the production of several projects related to youth and entrepreneurship, highlighting his involvement in the Escola do Rock, Espaço Jovem, Trainers4Creativity, Empreende Makers, among others. At the moment he is the coordinator of Elevadora - Centro Empresarial de Paredes de Coura (where the exhibition Zines da Cave will take place), where he supervises the management of spaces, dynamization of activities for various sectors of the population and coordination of national and international projects.

Cecília Pereira
Natural de Paredes de Coura, Cecília Pereira participa ativamente desde criança nos movimentos culturais e de solidariedade que vão decorrendo no concelho. Colabora também desde essa altura com a Associação Cultural de Paredes de Coura. É professora de Ciências na Escola Básica e Secundária de Paredes de Coura e, nesse âmbito, tem desenvolvido múltiplas atividades ambientais e culturais com os seus alunos.Enquanto uma das pessoas mais ativas na comunidade de Paredes de Coura, é uma das co-administradoras do grupo
"Paredes de Coura Terra Amada"
, grupo de courenses e amantes de Paredes de Coura com mais de 16 mil membros, onde são partilhadas notícias, documentos históricos, eventos e tudo o que esteja ligado ao concelho.
Born in Paredes de Coura, Cecília Pereira participates actively since she was a child in the cultural and solidarity movements that take place in the municipality. She also collaborates since then with the Cultural Association of Paredes de Coura. As one of the most active people in the community of Paredes de Coura, she is one of the co-administrators of the group "Paredes de Coura Terra Amada", a group of local people and lovers of Paredes de Coura with more than 16 thousand members, where news, historical documents, events and everything related to the municipality are shared.